(March 2022)
Robert Buschel of Buschel Gibbons, P.A.
interviewed about the law and his novel, God's Ponzi.
Ex-girlfriend accuses suspended pitcher San Dyson of sexual battery, emotional distress in civil suit
(December 2021)
Robert Buschel of Buschel Gibbons, P.A.
"Mr. Dyson has not accepted responsibility for his behavior, thus he has forced this matter to be tried and proven
in front of a jury. We have no doubt that the findings of the jury will be identical to
that of Major League Baseball and that Mr. Dyson will be held to account for his
violent actions against Ms. Blackburn."

DNC Loses RICO lawsuit against Russian Federation and Roger Stone.
"Hours before the Democratic presidential debates, a federal judge dismissed the Democratic National Committee's lawsuit
that accused the Trump campaign, the Russian Federation, WikiLeaks and others of interfering in the 2016 elections."
(August 2019)
A Crime Committed on Social Media; Facebook misdemeanor.
Buschel Gibbons, P.A. lawyers win victor for Miami Police Officer accused of assault
(April 2019)
Buschel Gibbons, P.A. is pleased to annouce that it has become general counsel to the Sunrise General Employees Union
in Sunrise, Florida. (September 2018).
Buschel Gibbons lawyers win Federal lawsuit in D.C. against Roger Stone and Trump Campaign Dismissed.
Fort Lauderdale attorney Robert Buschel of Buschel Gibbons, P.A. cinched a victory in a federal lawsuit
against their client, Roger J. Stone, a longtime confidant of President Donald Trump.
Buschel Gibbons, P.A. sues North Bay Villiage
"Chief Noriega is an honest, dedicated and ethical law enforcement officer and public servant for over 35 years,"
attorney Eugene Gibbons said in a statement after filing the suit, "and we are fully committed to seeking justice
on his behalf. The repugnant, devious and unlawful motivations and actions of the Village leaders involved in this
case will be fully exposed and there will be no doubt Noriega's termination was in violation of the law."
Buschel Gibbons, P.A. wins criminal trial with science.
"They thought they had Oldy Ochoa's sperm cells mixed
with the DNA of (the teen), and it wasn't," attorney Robert Buschel said.
"It was Oldy Ochoa's skin cells. Your DNA is on my table, and mine is
on this table right now, and that doesn't mean anything more than you
and I are sitting at this table, and they misinterpreted that and that's what
led to the arrest."
Eugene Gibbons, Esq. of BuschelGibbons, P.A. in the Washington Post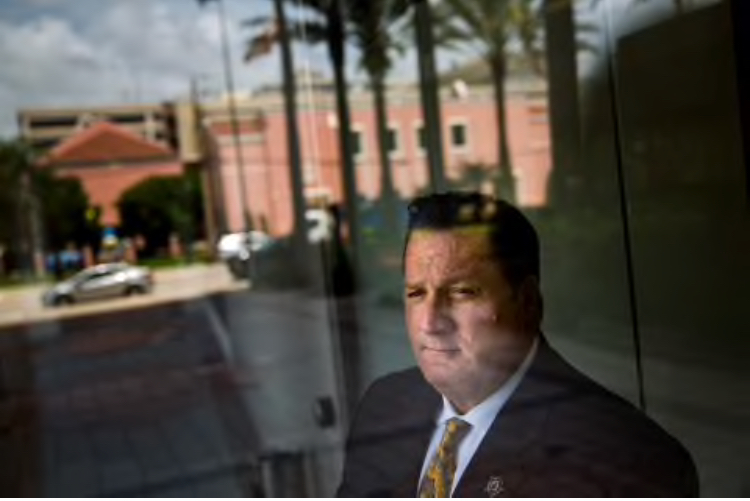 "For Gibbons, an affable, barrel-chested man, the path to becoming an advocate for embattled police officers began when he
was a teen growing up outside Philadelphia in the early 1980s."
Buschel's Political Thriller a Must Readl
Buschel's political thriller By Silent Majority, about presidential scandal has local links
August 30, 2016.
Listen to Podcast interview of Robert Buschel about Supreme Court of Florida Case D'Agastino v. City of Miami by Wil Aitchison.
July 24, 2017
Eleventh Circuit Court of Appeals vacates and remands sentencing
for Buschel Gibbons, P.A.
April, 2016 (click here)
Rothstein Associates Obtain Relief from Restitution
March 22, 2016
"It's a substantial burden that has been lifted from their shoulders and they are relieved," said Buschel.
------------
Broward man formally cleared of leaving scene of I-595 fatal
Buschel, the trial lawyer, embraced McGowan and his family outside the courtroom.
"This is a happy ending to a long, painful and brutal story," he said.
--------------------------------
*** End of News ***